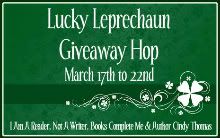 Lucky Leprechaun Giveaway Hop is hosted By I'm a Reader Not A Writer, Books Complete Me & Author Cindy Thomas. This hop will run from 12:01 AM March 17, 2012 through 11:59 PM March 22, 2012.
Let's all join and celebrate St. Patrick's Day with green beer, great books, and a prize!! Please join!
Since St. Patrick's Day is themed with Irish, and green I've decided to go green for $$$and make it a gift card. In case you are not an exclusive Amazon book shopper I'd like to make this giveaway friendly for all shoppers in case you prefer Barnes & Noble like me, Book Depository, or even Target. I'm giving away a $20.00 Visa gift card so you can chose the book of YOUR choice.

Please join in the fun and test your luck to see if you're the lucky winner. Good Luck! ♥


Happy St. Patrick's Day!♥
a Rafflecopter giveaway
Good Luck! Thank you for entering, and don't forget to enter all the other bloggers awesome giveaways as well!
My choices would be:

1. Downside Ghosts by Stacia Kane
2. Fifty Shades by E.L James
3. Night Huntress by Jeanine Frost
4. Fever by Karen Marie Moning
5. Sirantha Jax by Ann Aguirre
6. The Infernal Devices by Cassandra Clare
7. Black Dagger Brotherhood by J.R. Ward
8.Morganville Vampires by Rachel Caine

Was that 8? LOL