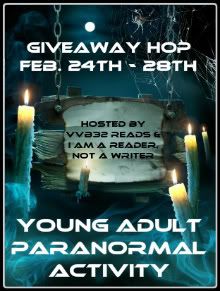 This hop features giveaways of Paranormal Young Adult Books (ghost, werewolves, vampires, zombies, etc.). Hosted by
vvb32 reads
and
I Am A Reader, Not A Writer
.    
Okay so most everyone that knows me is well aware that in my paranormal books I prefer to keep them dark, gritty and full of irresistible romance.

So to stay true to my preferences for this paranormal hop I've decided to give away a dark, gritty,  paranormal romance book with an angel in it! Whats more irresistible than an angel??! My giveaway is for the latest installment in the Touch Trilogy called ATouch Morbid by Leah Clifford. Please join in the fun and test your luck to see if you're the lucky winner. Good Luck!! ♥
Thank you for entering!!!