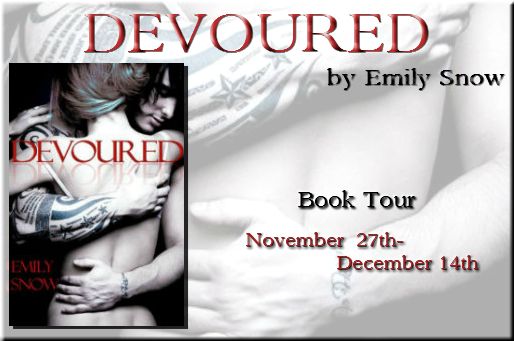 Welcome! I'm excited that today is my stop on the Devoured Book Tour by Emily Snow hosted by my friend Taryn at My Secret Romance.
Lucas Can DEVOUR Me……
Title: Devoured
Author: Emily Snow
Series: Devoured #1
Publisher: Self/Indie
Release Date: October 9, 2012

Sienna Jensen had no plans to return home when she graduated college last spring—after all, her dreams lie in California. But when she discovers her grandmother's Nashville home has been foreclosed, and the new owner has started the eviction process, Sienna has no other choice but go back to Music City. And she comes face to face with the flawed, gorgeous man she never thought she'd see again. The man who now holds the deed to her grandma's estate.

When millionaire rock star Lucas Wolfe finds the outspoken redhead glaring at him from across a courtroom, he's both infuriated and intrigued. He still can't get the night Sienna almost spent with him out of his mind, and the chemistry between them is as undeniable as it was two years ago. He craves Sienna more than ever. And just like everything Lucas hungers for, he's determined to have her.

Now, Lucas will do whatever it takes to lure Sienna into his bed, even if that means making a deal with her: ten days with him, playing by his rules, and he'll hand over the deed to her grandmother's home. Though she agrees to the arrangement, Sienna is conflicted. Because of her duty to her family. Because of promises she's made to herself and a past that still haunts her. And as Lucas's game of seduction continues, and Sienna is introduced to his dark, erotic world and even darker background, she realizes that at any moment, she could be devoured.

*This novel contains adult situations and content*
"Why'd you remember me? Why when you fucked so many of the others?"
"Because you're the one I didn't."
Hold on while I fan myself. Okay so on a complete side note. I have a celebrity rocker that I have met in Las Vegas, my hometown, and also in Los Angeles, because I always seem to run into him at various awards shows I attend. So one time he was in my hometown for a perfume launch and after about six different times meeting him he spotted me and called me to the front of the line, doing his usual spill of giving me his fake name, and hotel information, and it finally occurred to me; he can have any beautiful model or celebrity he wants so why would he always want me. When I asked him how he always remembers me with all the other females throwing panties at him, he smirked and said "because you're the only one that's ever said NO to me." We'll on that note, when I read that line above I quoted in this book, I was instantly hooked. I mean not only is it believable, but its incredibly provocative to know that you're the only one that didn't succumb to temptation. That's why I adored Sienna for being strong and forcing sexy pot Lucas to get to know her before he got to know her body. Can you tell I have a soft spot for rockers? Well yes, bad boy rockers are my addiction. Hehe
This exchange between Asshat and me isn't one of those love-at-first site moments—no, it's nothing like that. This is one of those moments where fate has roundhouse kicked me in the face yet again. Why is he here in Nashville? In the same courtroom as me? God, please don't let him remember me.
Sienna lives a successful life in Los Angeles working as the wardrobe stylist on a popular television show leaving her country roots behind in Nashville. Little did she know that when she came to assist her granny that was losing her house to foreclosure (very sad) that a bit of her past in Los Angeles would be following with her. Too bad he's oozing sex appeal but lacking in character according to Sienna. These two didn't part on good terms and when she discovers he's to become the new owner of her granny's foreclosed home, she's once again reminded of his less than stellar behavior towards her the last time they spoke, and her anger simmers to the top.
Miss Jensen,
As promised, I've attached the training instructions. Look over them. Learn them. Don't forget the deal you're making.
Can't say I'm not looking forward to the next several days. I've already got this vivid idea of how you'll taste after you've said the words. How you'll feel when I'm inside of you. Have you imagined it yet?
Lucas
Is it getting hot in here? *fans myself*
As Lucas confidence seeps out his pours on a regular basis, he has mad sex appeal as well as a dominant side that makes me want to submit to him.
Without thinking, I reply and ask him if workplace sexual harassment laws apply to being employed by a cocky rockstar.
What I like about Sienna is that she doesn't fawn all over him like all his groupies. Deep down its difficult to simmer down her attraction to him, but she does an excellent job of dialing it down in his presence.
"A lot of it," I hiss. "It's a lot of money." "And I have a lot more of it. I've blown what I spent on your grandmother's house on parties and strippers and booze in a month." For some reason, I'm not at all surprised if not more than a little disgusted. Shaking the thought of him raining enough money to buy a home on a spray-tanned pole dancer named Candi, I say in an even tone, "But what do you have to gain by this? If you don't want me to have sex with you, why make this kind of offer?"
Truly this is an offer she cannot even fathom passing up even though she's reluctant to because she knows that getting too close to Lucas can be dangerous…..dangerous to her health, sanity, and her vulnerable heart. But even though its obvious that Lucas will come out a winner in this scenario as well if he's able to win her heart, but at such an expensive price tag he shows a remarkably generous as well as a compassionate side that made my heart melt for him. Lucas is the epitome of a rock star bad boys with a heart of gold for the one person that he's vulnerable to….Sienna. He's a control freak, into a bit of kink, yet he's tender when needed to be.
"I plan on making you sit on making you sit perfectly still," he says, his hazel eyes gleaming with desire and power. "Dipping my fingers, my fruit, inside of your body. Tasting you. I've grown addicted to the way you taste, Red."
What I appreciated about the story was that not only does Lucas have his own demons that he's battling, it's all unravelled slowly, and its these imperfections and his own dark side that makes you love him even more. Throughout his and Siennas journey she discovers that behind all that confidence and smoldering sexiness he's also a a vulnerable man that has it all (money & fame) yet he wants nothing more than to possess her mind, body, and soul. *sigh* Did I mention that Lucas serenades Sienna to sleep wearing nothing but his tattoos?? YES! Totally mouthwatering billionaire bad boy rocker at his finest.
And no making me do sexual favors?" I ask one final time. His lips curl up into a hungry smile and I know there's a caveat. "Oh, we'll fuck Sienna. Believe me, it's been bound to happen since I first laid eyes on you. But this time it's going to be because you beg me. Not the other way around. And when you do beg me, it's because you're consensual and ready to completely give yourself to me."
I found Lucas and Siennas story sexy, fun, angsty, and romantic yet at some times I found it to be missing a few pieces and a bit slower, yet I'm looking forward to reading Consumed the next book in the lives of Sienna and Lucas. The book ends on a bit of a cliffhanger, and its definitely a great debut romance novel that I predict many will love and even with the abrupt ending, I'm expecting any of the pieces that Emily Snow didn't answer for me will be delivered in the next installment of the Devoured series Consumed releasing January 15, 2013. I can't wait to get swept away in the rockstar world of Lucas and Sienna very soon. Emily Snow will be an author to keep your eyes on in this popular New Adult genre, for romance, lust, angst, and plenty of sexiness to come!!
Sienna,

It's sad that this is what I do for a living and I can't even come up with a decent explanation for myself. Then again, maybe that's because I've never had to or wanted to explain my actions before you. I know I hurt you. I know you must want me to fucking die right now, and I'm so sorry.

Lucas
ARC provided for review by Author
Find Emily Snow:  Goodreads    Twitter   Facebook   Blog
Emily is so gracious to give away one ebook of DEVOURED to a lucky winner on my blog and A grand prize of a $100.00 gift card will be awarded at the end of the tour to one winner. Be sure to enter BOTH Rafflecopter forms to ensure you are entered into the Devoured book giveaway as well as the grand prize $100.00 giveaway.
Devoured
a Rafflecopter giveaway
Grand Prize
a Rafflecopter giveaway
♥ Good Luck and thank you for entering ♥